Welcome to Pilates to the Core!
I specialize in teaching the revolutionary Classical Pilates Method, formerly known as Contrology developed by Joseph H. Pilates nearly 100 years ago. Pilates is a system of movement designed to heal the body and improve breath capacity. Breathing is the first act of life and the last! Uniform development of the musculature with a balance of strength, flexibility and control are the hallmarks of Pilates.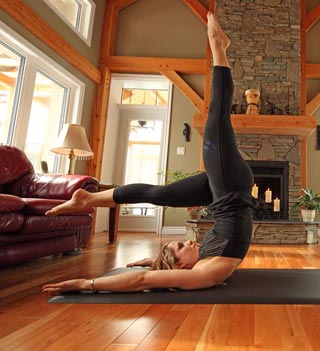 Practise of the Pilates method will help you to properly develop the core muscles of your body. Mr. Pilates called this area your "Powerhouse" to illustrate the idea of where your strength should come from. The Powerhouse is basically all the muscles that support your spine. With a focus on developing your core strength, spinal flexibility and breathing mechanism the Pilates method keeps you young, flexible and strong for life. Incorporating regular Pilates sessions into your routine will give you a sense of empowerment so you go through life with greater zest and pleasure!
Besides his mat exercises, Joe Pilates also invented many apparatus. Legend goes that he made the original 'Magic Circle' from the steel bands around beer kegs. His other devices include the Universal Reformer, Cadillac, Wunda chair, Ladder Barrel, Spine Corrector, Ped-a-Pull, Magic Circle, Foot corrector, Toe Corrector all found here at Pilates to the Core. If you haven't worked out on these, you simply haven't experienced all that Pilates has to offer. Sessions are performed in combination on the various apparatus. Apparatus sessions are limited to 1 or 2 people, so clients receive totally personalized instruction focused purely on their needs allowing them to progress at their own pace. Small mat classes are available as well with 6 people maximum.